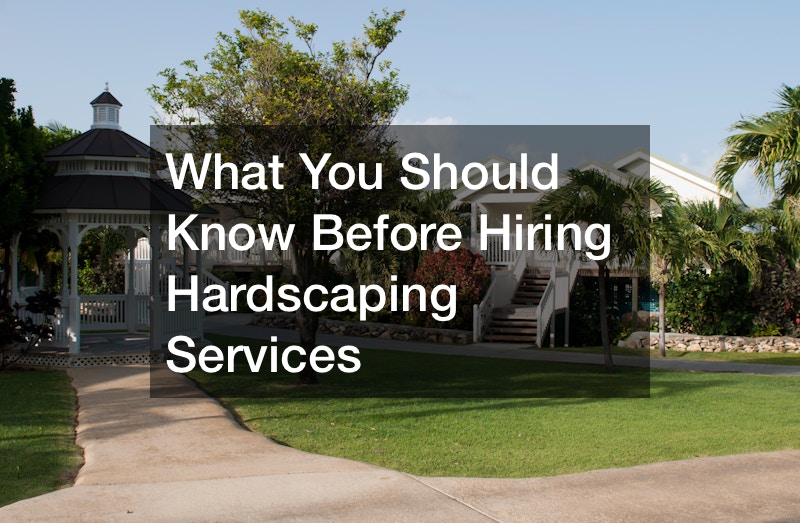 Hardscaping is adding an artificial structure to the landscape. Hardscape structures are usually made of materials like concrete, rocks, pavers, stone, wood, bricks, or gravel. Experts argue that choosing the right hardscape project can add 20% to 30% return on investment when selling your home. So, here are ten things to note before seeking hardscaping services for outdoor improvement:
1. Have a Vision for Your Outdoor Space
Before hiring a professional team to do your hardscape, have a vision for your outdoor space. The best question to have in mind and answer yourself is; why do I need hardscaping services? Generally, hardscaping protects and supports softscaping. Softscaping is the opposite of the hardscaping which consists of animate living horticultural elements like the st augustine grass or other plants.
First, hardscape structures can help reduce land erosion. For instance, a stone patio installation will break the wind around the landscape to prevent it from breaking weaker plants. It also reduces runoff water speed which can carry away soil or plants. Any hardscape structure you put in must have benefits either for humans or other elements in the yard.
A brick walkway around the yard is a hardscape you use to access various parts of the yard. This saves you from walking all over and damaging the grass and flowers. Secondly, it saves you from the morning dew if you love unwinding in your custom patios in the backyard after bed.
Another idea of a hardscape is the pond around the home swapped with water lilies and other plants that grow in water. It adds to the overall home's beauty depending on the professionals you hire to perform the task. You can also decide to have a gazebo around with climbing roses.
So, as a general rule, a hardscape is the skeleton of the yard regarding improvements. And when you do the softscaping, you add the flesh and clothe it. You decide this as a homeowner before hiring a professional for the project.
2. Go for a Company that Understands Your Vision
Many homeowners create imposing ideas and plans for their landscapes. But when it comes to hiring a company to perform the project, they go wrong. And considering that hardscaping services can cost around $2600 to $13700 depending on the yard size, this can be a significant loss if done wrong.
So, what should you do to ensure your vision is understood? Find a company that will allow a professional to sit with you. Then, discuss your goals and show them your sketch or the plan. Afterward, listen to the response and the advice they give you.
A reliable company that understands your vision will advise you on the areas that need correction. A good company will advise you on aspects that will improve the yard's beauty rather than focus on increasing the cost. Additionally, a company that understands and values your vision will be a future partner in offering hardscaping services.
The second step to note if the company understands and values your input is by visiting the yard. After taking the measurements and checking on the yard shape and elevation design, you must listen to their view on bringing your vision to life.
3. Check the Company Certification
There are over 649,131 companies offering landscaping services in the United States. Most of these companies offer services in packages like hardscape and softscape. Surprisingly, the company's number has increased by 5.5% from 2021. This indicates the industry is growing.
But are all these companies certified? According to the National Association of Landscape Professionals, the landscape technician certification is rewarded to experienced and knowledgeable technicians who work on softscape and hardscape installation and maintenance.
So, if you want to save time and money and have an excellent yard in the end, look for a certified hardscapers. Whether you need an outdoor kitchen builder or a patio designer, they must prove to you their experience with a certification.
Further, a certification is awarded to individuals. For instance, if they have a team of five professionals that will offer hardscaping services at your home, ask to see the certifications for each person. Same case if you need softscaping and hardscaping services as a package. Check the arborist certification and any other professional like the paver.
4. Don't Forget About the Company's Insurance
According to a report in late 2020, there were more than 775,000 injuries related to home improvement projects. 300,000 of these injuries happened while working in the yard. It's reported that most injuries are caused by various gardening tools and equipment, totaling 37,000 head injuries and 16,000 upper body fractures.
Ensuring the company you hire has insurance coverage protects you, your properties, and protects the workers. You don't want to lose your water tank as a result of damage during construction or have your pet injured and no compensation. But if the company owner has everything covered by the insurance, you don't have to worry about spending your money buying lost items.
Home improvement contractors must have general liability and workers' compensation insurance. The general liability insurance covers the company from the third party claims of damages. If you sue the contractors for property damage, this insurance will cover the damage.
For example, an employee from the home improvement company breaks your water tap and it leaks through the patio. And in the end, it damages your pavement; the general liability insurance will cover all the damage.
The company's second type of insurance is the workers' compensation. This insurance is more beneficial to the contractor but it also saves you in case of project delay. For example, if the worker gets injured during the project, they cover the bills on behalf of the company. This gives a chance to hire another professional to proceed with the work.
5. The Company Warranties Too
A warranty is essential in protecting your valuable investment. A warranty is a documented guarantee of quality promised by the service provider to the client. A warranty will provide you with legally ensured service replacement or correction in case of errors.
Now we apply it to the hardscaping services. Warranties will save you from spending more money to fix errors caused by the contractor. For instance, if the contractor fails to properly do the drainage after foundation repair and the project gets damaged, you can request them to redo it.
Find a company that will offer good warranty for your yard project. The best way to find reliable companies is to choose several and analyze their offer. Fortunately, nowadays, the internet has made everything easier. In fact, 71% of businesses in 2023 have websites. This makes it easier to read and analyze all the services they offer before contacting their customer support team.
Finally, a good warranty will save you from repair costs that many homeowners face every year. Luckily, some companies offer warranties for a year, five years, and more depending on the quality and the size of the project. However, only be convinced to accept the warranties with a signed agreement because some foreign companies relocate with seasons.
6. What Projects Does the Company Offer
Specialization is good. But also getting a company that offers services as a package is better. Why? Because you will have less hassle hiring companies for hardscaping services. Secondly, you save money because if you get an estimate from one company, you will get offers.
There are many types of hardscapes. Most are building and maintaining patios, retaining walls, building walkways, etc. Let's say you hire each professional for specific maintenance of building work; you will spend more time and money.
Due to the growth of this industry, more and more companies are getting into the market. To be on top, most companies have hired professionals with experience in every detail of hardscaping services rendering and yard improvement in general. This is where as a homeowner, you benefit. But before signing with them for the services, ensure they will offer top-notch services.
7. How Long Will the Construction Take
You don't want to turn your home into a construction zone. You also need a home's privacy and free time to enjoy around. Moreover, you need space for your trees to flourish after the recent tree services. So, find a company that will offer fast but quality services.
The first step to determine if the company will offer fast services is the number of workers. Several workers or professionals handling various projects around your home will complete them quickly. For instance, if you need patio improvement, pavements, and other services, go for a company that will assign various professionals for these jobs.
The second technique to determine if the company is fast in service delivery is the type of tools they have. Do they deliver ready concrete to the site? If yes, then they would spend a few days at your home. Most companies have concrete trucks, which ease the mixing job for the workers.
Another trick to determining whether the company is fast is asking how they handle projects during harsh weather or seasons. You don't want to have your project stopped halfway due to bad weather. It the better if they have mechanisms to complete the project despite the weather. Otherwise, you can have a reliable and flexible schedule of when the project can kick off.
8. Check On Reviews from their Past Projects
Businesses rely on word of mouth and referrals. But you will be surprised to learn that many people have shifted to online reviews. Why? It's the easiest way to learn about a business's products or services. Since more than half of businesses have websites in 2023, it's easier to read reviews from most home improvement contractors' websites. Research shows that 95% of customers read reviews before they purchase a product or seek services. In other words, that is 9 out of 10 customers who read reviews first before hiring.
That said, you will be sure to hire a professional company after reading reviews of their past projects. For instance, if your project is a garden sprinkler system installation, read reviews related to this project. You will quickly learn their professionalism level and determine whether to hire the company. Moreover, if you have friends or colleagues who have experience with the company, ask for more information regarding their services.
Additionally, a reputable home improvement contractor will gladly give you references from the past projects. However, keep them from choosing their favorites for you. Instead, pick from the list and call the client to enquire about their services.
9. Ask Questions About the Design and Construction Process
Ask any questions regarding the design and the construction process. A good company will be ready to assign a professional from the team to answer your questions. Here are examples of questions to ask before hiring:
How do you do the excavation and sub-base preparation?
What will you use for base preparation?
How will the compaction process be?
What drainage types do you use in patios?
If the company answers your questions, you can hire them for the home improvement project.
10. Never Forget the Pricing
The pricing is essential when hiring a contractor for your yard improvement. You must learn about their packages and how much their building material costs. The best way to make wise decisions is to request an estimate from each company you contact. Checking different estimates and descriptions of how they would handle the project will help you choose the right company.
Moreover, the estimate helps you in case of misinformation when proceeding with the project. And when it comes to requesting estimates, have a written copy rather than verbal agreements. Most companies will give the estimate and refer you to the best material suppliers. You can pay for everything as one package if they also supply the materials.
A hardscaping project is a big commitment. And choosing a hardscaping services provider is easier if you refer to the above tips. Yes, you will have a lot of choices when hiring these professionals. But let not their high number on social media platforms trick you into hiring unqualified companies.