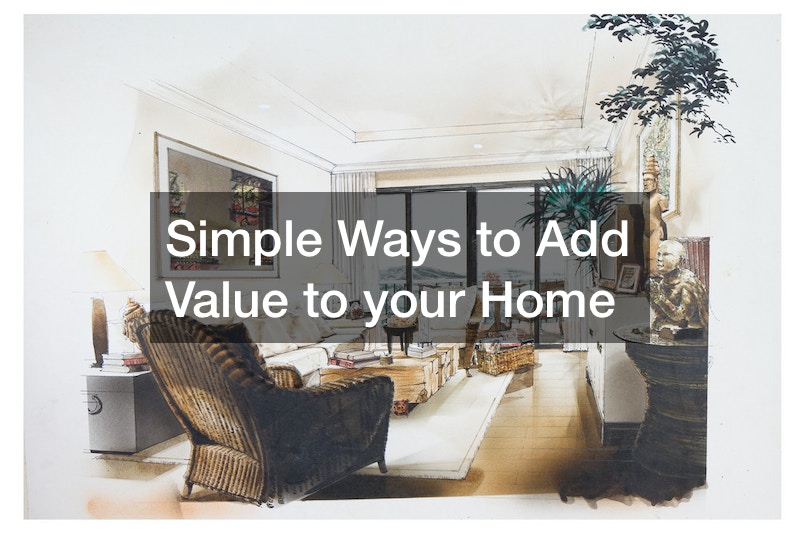 Are you considering selling your home? Or do you want to make investments that will pay out handsomely in the future? Whatever your reason is, there are many ways to add value to your home.
The good news about adding value to your home is that you don't have to spend excessively. There are several brilliant and simple ways to increase your home's value, even if you are on a budget. For example, something as simple as repainting or adding in some new fixtures can help increase the appeal and value of your house.
However, it is within your right to go for more expensive home improvements if you have the budget. These can help transform your home, giving it a new look and feel that will fetch a maximum price. But, before embarking on any big projects, you should consult an expert. Doing this will help you avoid a situation where you invest heavily in an improvement that will result in a low return on investment.
Top 9 Ways to Add Value to Your Home
If you want to add value to your home, the following are some of the top options to consider in 2022. These ideas can help improve the appeal of your home, making it more attractive for buyers when selling. They are also excellent investments, which can raise your home's equity, leading to a higher selling point.
Paint the Interior and Refresh Your Décor
Painting is one of the best ideas for improving the look and feel of your house. It is also one of the simplest and most inexpensive ways to add value to your home. A fresh coat of paint will update any room, making it look and feel brighter, cleaner, and more spacious. A paint job will even give older homes a modern, luxurious vibe, making them easier to sell.
Painting your home's interior can also offer other benefits that help to increase its appeal and value. For example, it can hide imperfections such as dents, scratches, and uneven spots, particularly on old or dying walls. It can also lock in and seal odors, which can be a huge concern if you have pets or are a smoker. Lastly, painting your walls helps to protect them from dust, dirt, and other wear and tear, which is an excellent investment for your home if you are not selling immediately.
Besides painting, you can also increase your home's value by sprucing up the interior décor. This is especially a good idea when you are selling your home – updated décor can make your home feel livelier, increasing its appeal to buyers. Like painting, your decorations don't have to be expensive. Instead, simple ideas like hanging art on the walls, new carpets and rugs, and furniture items such as bookcases and wall shelves can do wonders for your home value.
Fix Any Problems in Your Home
Another one of the top ways to add value to your home is to fix any issues that can hurt your selling point. These problems include leaking faucets and other plumbing issues, frayed electrical wires, mold, pest infestations, sticking windows and doors, squeaky stairs, wall and ceiling cracks, and more.
Some of these issues might seem small and inconsequential, but they can be a huge nuisance when trying to sell your home. For example, they can make your house look disheveled, scaring away potential buyers. Worse, they can lead to a low offer on your house, far below your home's actual value.
Some of the minor problems in your home can also lead to more extensive damage, leading to more expensive repairs in the long run. For example, leaking pipes and faucets can easily lead to water damage and foundational issues, which are costly to maintain. Therefore, in the end, you will have to pay more for repairs or take a lower offer when selling your home.
So, if you want to add value to your home, go through the house and check for any issues that can hurt your selling point. Unfortunately, some of these issues, such as mold, pest infestations, leaking pipes, and damaged wiring, might not be easy to spot. Therefore, it might be a good idea to hire an inspector to asses your home, thus unearthing them.
Improve Your Home's Energy Efficiency
According to research findings, many buyers consider energy efficiency when buying a new home. Therefore, if you are looking for ways to add value to your home, adding energy-efficient fixtures is an excellent idea.
One of the top ideas for making your home greener is to switch to energy-efficient lighting, such as LEDs, which can reduce your energy consumption by up to 90%. Energy-star-rated appliances can also help bring down your home's energy bills. You can also make your home more energy efficient by installing modern boilers that use natural gas or heating oil.
Other excellent green ideas for your home include installing programmable thermostats, adding insulation, and installing energy-efficient windows. It would help if you also were on the lookout for issues that increase energy usage, such as air leaks and leaking HVAC ducts.
Additionally, you can consider some more expensive energy-efficient upgrades, such as installing solar panels. Solar panels can help offset your energy bills, and their eco-friendliness can appeal to many buyers. Furthermore, some areas offer reduced property taxes for homes with solar panels, another huge selling point.
Improve the Air Quality in Your Home
Improving the air quality is another one of the top ways to add value to your home. Good indoor air quality will make your house more comfortable and homelier, thus increasing its appeal to potential buyers. In addition, it can offer several other benefits, such as improved sleep, easier breathing, and reduced disease and illnesses, especially respiratory health problems.
One of the top ways to improve the air quality of your home is to upgrade your HVAC system. This can help improve air circulation in your home, which will, in turn, improve the air quality. Central air systems also have filters that remove pollutants, making the air cleaner. And while expensive, a new HVAC installation can make your home more energy efficient, making it more appealing to buyers.
You can also improve air quality in your home with air purifiers and humidifiers. These help to remove pollutants such as dust, dirt, pollen, mold, and pet dander, giving your home clean and fresh air. Removing these particles from the air will also make your home look well-kept, which can appeal to many buyers.
Remodel Your Outdated Kitchen and Bathroom
Remodeling is another one of the best ways to add value to your home. And when it comes to renovations, the kitchen and bathroom are some of the best options. These are two top areas that buyers pay attention to. Therefore, updating them will increase the appeal of your home, which can, in turn, lead to a higher selling price.
For kitchen renovations, you should pay more attention to visible areas such as cabinets and surfaces. You can repaint your cabinets and install new hardware, which will help make your kitchen look fresh and modern. You can also hire home builders to redo your countertops if you have the budget. You can also refresh your kitchen with new faucets, appliances, and lighting.
Likewise, you can increase the appeal and value of your home by renovating your bathroom. Simple fixes, such as changing the faucets and shower heads and regrouting the tiles, can give your bathroom a new look. In addition, you can hire a home remodeling company to conduct more extensive upgrades if your budget allows. For example, consider redoing the bathroom flooring, adding new sinks, replacing the toilets, and adding a tub. These updates can make your bathroom and your home look more luxurious. As a result, you can ask for a higher price when selling your home.
Improve the Curb Appeal
If you are still looking for simple ways to add value to your home, consider improving the curb appeal. How your home looks from the outside makes a lasting first impression on buyers. As a result, it can either help you sell your home faster and at a higher price or scare away your buyers.
The siding is one of the most important aspects to consider when it comes to curb appeal. You can refresh your home's outer walls by power washing them or with a new paint job. You can also hire a home siding contractor to restore or install new siding if your exterior walls are in a state of disrepairs.
Besides the siding, you can also improve your home's value with a few landscaping upgrades. For example, you can give your outdoors a new look by clearing up an overgrown yard and planting a new lawn. You can also add color to your home by planting trees and flowers.
Fix Your Damaged Roof
Fixing or replacing your roof is another one of the top ways to add value to your home. The roof plays a great role in curb appeal; a new or restored roof can significantly increase your home's aesthetics. As a result, you can get more serious buyers by hiring a roofer to repair any issues with your roof.
On top of increasing the appeal, a sound roof helps improve your home's functionality. It is an excellent insulator and can help make your home more energy efficient. On top of that, fixing the roofing can help deal with serious issues such as water leaks and mold growth, which can scare away potential buyers.
When you want to add value to your home, fixing or installing a new roof can be expensive, especially if you are on a budget. However, an unkempt roof can lead to future costly issues such as water damage, foundation damage, ceiling and wall damage, and more. Therefore, investing in roofing contractors is a good idea, even if you are still looking to sell your home after a while.
Clean and Declutter Your Home
Cleaning and decluttering are two of the simplest and often overlooked ways to add value to your home. When selling, the first impression is crucial and can either boost or hurt your selling point. Therefore, you should thoroughly clean your house before a planned showing to attract buyers.
When it comes to cleaning, the kitchen and bathroom are two of the top areas you should pay attention to. An impeccable kitchen or bathroom can add a few thousand dollars to your asking price or scare away potential buyers. It would also help if you remembered other vital areas such as walls, carpets, rugs, and upholstery – nothing is more off-putting to buyers than greasy walls or bad smells in a home.
On top of cleaning, you should thoroughly declutter your home before selling. Built-up clutter can make your home appear dirty and unkempt. But besides making your home cleaner, decluttering can also help the house feel more spacious, which is a great selling point. Therefore, you can even hire a moving service to move some of your large furniture pieces into storage, creating more space.
New doors and windows are another one of the top ways to add value to your home. They are also an excellent investment in your home if you want to live there for a few more years.
New windows can improve both the aesthetics and functionality of your home. First, they can help bring more natural light into the house, making it brighter and more spacious. Windows can also help improve your home's curb appeal by adding color and depth to the exterior walls and complementing the architectural design. As for functionality, modern widows can help make your home more energy efficient.
Likewise, doors have both functional and aesthetic benefits, which can help add value to your home. For example, poorly maintained doors can cause accidents and injuries or make it easier for intruders to enter your home. Therefore, replacing them can make your home safer and more secure. New doors, especially the front and garage doors, can also increase the appeal of your home and attract more potential buyers.
Selling a home can be a long and tiring process. However, the above are some top ways to add value to your home and pocket profit from your effort. The best thing about these tips is that you don't have to invest too much time or resources in sprucing up your home. Instead, you can make it more appealing with simple ideas such as repainting, simple renovations and upgrades, and cleaning and decluttering. However, you can also go bigger with more expensive renovations that will overhaul your home, should your budget allow.